Date Published: März 21, 2019
SiTL (26th – 28th March, Paris France) – BIXOLON Europe GmbH, a global leading Mobile, Label and POS printer manufacturer will be partnering with CipherLab in Hall 1, stand C39 to demonstrate its comprehensive range of Transport, Logistics and Warehouse printing solutions.
Demonstrating the role label printing technology plays in the logistics automatic identification, tracking and shipping process, BIXOLON will be showcasing a range of desktop labelling solutions. Including the SLP-TX400 4-inch (116mm) barcode label printer with external paper supplier for high volume labelling. The SLP-TX420 4-inch (110mm) Thermal Transfer and SLP-DX420 4-inch (110mm) Direct Thermal label printers for packaging and shipping label solutions. The SLP-TX220 and SLP-DX220 2-inch (60mm) printers for label tracking and banding identification. The SRP-E770III 4-inch (106mm) economical direct thermal label printer. Plus a first look at the XT5-40 4-inch (114mm) industrial label printer supporting 203, 300 and 600dpi print resolution launching in April 2019.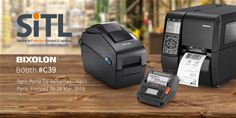 BIXOLON at SiTL 2019
BIXOLON will also be inviting visitors to explore the latest innovations in mobile printing, through its growing range of 2-inch, 3-inch and 4-inch mobile receipt, ticket and label printing solutions. Including the next generation SPP-R310plus, 3-inch (80mm) mobile receipt and linerless label printer featuring Bluetooth 4.1 and dual-band connectivity. The SPP-L3000, BIXOLON's first 3-inch (80mm) heavy label mobile printing solution and the NEW SPP-L310 3-inch (80mm) label mobile printer for medium volume label printing applications. Complimented by its comprehensive range of charging and carrying accessories.
"The Logistics market has always been an important sector for BIXOLON. SiTL provides us with the platform to connect directly with the key players within the European Logistics industry," explains Charlie Kim, Managing Director, BIXOLON Europe GmbH. "Partnering with Cipherlab throughout the event provides our visitors with the opportunity to see our printing solutions working in tandem with their industry leading range of Automatic Identification and Data Capture/Collection (AIDC) products to give a true representation of their purpose within a Logistics environment."
To find out more, visit BIXOLON at www.BixolonEU.com or contact sales@Bixolon.de to make an appointment to meet the team.