Date Published: mars 18, 2019
Adding the Compact 3-inch Label Printer to its Expanding Mobile Receipt and Label Printer Portfolio
BIXOLON Europe GmbH, a subsidiary of BIXOLON Co. Ltd, a leading global Mobile, Label and POS printer manufacturer today announced the launch of the SPP-L310 3-inch (80mm) mid-range mobile label printer to its comprehensive Auto-ID printing line-up. Ideal for use in inventory management, omni-channel fulfilment, logistics shipping and reverse logistics, food labelling, retail tagging and more due to its ergonomic design and intuitive features.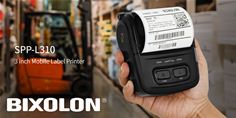 Providing the perfect fit for mobile environments, the SPP-L310 OS embedded printer is fully compatible with market-leading programming languages including SLCS, BPL-Z™ BPL-C™ interchanging programme language without setting the mode. Supporting high capacity up to 256 MB SDRAM, 512 MB Flash memory, while offering wireless and wired connectivity options including Bluetooth, WiFi, USB and Serial. Supports Easy Bluetooth Pairing™ via an embedded NFC tag to enable auto pairing and a Smart WiFi printer setting is available for mobile devices. While supporting use with all major operating systems including Android™, iOS™ and Windows® with the use of BIXOLON's sophisticated SDKs (Software Development Kits) to provide continuous printing capabilities for Tablets, Smartphones or PDAs.
Optimised for field operations, the super compact, light-weight (385g) mobile printer is drop tested on concrete from 1.8m/6ft. with an IP54 protection rating. Supporting fast printing up to 127mm/sec (5ips) generating 203dpi high quality text, graphics and barcodes. Supporting 80 mm and optional 58 mm media width, the SPP-L310 has a transmissive gap sensor and black mark reflective sensor onboard alongside various accessories and connectivity ports. The mobile printer also comes with a high-capacity rechargeable 7.4 Li-ion 2,600 mAh battery capable of providing 24 hour standby time once fully charged (Bluetooth model in power save mode). Alongside a two year warranty as standard (6 months for the battery).
"The SPP-L310 joins BIXOLON's next generation of mobile label printers maintaining BIXOLON's status as a global leader in portable printing," explains Charlie Kim, Managing Director, BIXOLON Europe GmbH. "Recognising the growing requirement for portable labelling solutions, BIXOLON's new mobile printer is not only packed with a range of design and software features but is accompanied with a wide range of charging and carrying accessories to provide the complete package."
For more information on the SPP-L310 or talk through your the options contact the team today.