Compact, Flexible Open Frame Printing Solution for the Kiosk Market
BIXOLON Europe GmbH, a subsidiary of BIXOLON Co. Ltd, a leading global Mobile, Label and POS printer manufacturer today announced the launch of the BK3-31. A compact, flexible and highly reliable 3-inch (up to 80mm) open frame printing mechanism ideal for a range of kiosk applications including parking tickets, self-service terminals, train ticketing, receipting and more.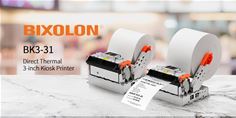 BIXOLON BK3-31
Designed for standalone self-service kiosk installations, the BK3-31 direct thermal printer operates at print speeds up to 250mm per second with 203dpi resolution to produce high quality text, graphics and barcodes. Presenting a larger paper roll capacity than traditional packaged kiosk printers, the BK3-31 supports media roll diameters of 80 / 102 / 120mm and various media widths of 83 / 80 / 60 / 58 / 20mm for a range of printing applications from wider lottery ticketing to narrow token printing. The kiosk printer also provides a paper saving mode through BIXOLON's simple Unified Utility reducing paper wastage resulting in paper savings up to 25% and decreased CO2 emissions.
With compact, lightweight design the BK3-31 kiosk printer supports a range of kiosk mounting options to provide design flexibility for the kiosk builder. With seamless paper feeding with additional roller-tension, multi-position near-end sensor for easy monitoring of the paper, removable bezels and an adjustable media width frame the printing mechanism can be personalised for a range of kiosk designs. The kiosk printing mechanism also has a USB V2.0 and Serial (9 pin male or 5 pin connector) with a DC Jack or 2 pin power connector connectivity as standard.
Supported by BIXOLON's wide range of drivers, utilities and SDKs, the BK3-31 is compatible with Windows® major OS system and OPOS-based systems from Android™, Windows® and Linux™ for smart based devices. Supported by an industry-leading 2-year warranty as standard.
"The BK3-31 open frame kiosk printing mechanism provides adjustable design features which can be personalised to your kiosk application," explains Charlie Kim, Managing Director BIXOLON Europe GmbH. "With the global success of our ultra-reliable packaged thermal printers being used in a range of kiosk applications, BIXOLON has produced a flexible open-frame kiosk printing solution ideal for a large scope of kiosk environments backed by BIXOLON's superior build reassurance and technical support."
For more information visit www.BIXOLONEU.com or speak to your local BIXOLON Sales Representative.